Rhydin Role Playing Character
Myrelle Dameron McKane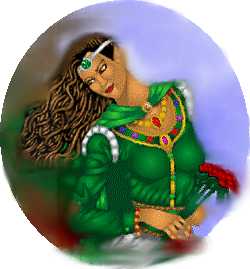 (Myrelle Dameron, taken on her 18th birthday)
Background
Born of an illicit affair between a royal elven archer and a dryad maiden. Neither race would accept her, so she was left at the roots of an old elm tree, one the dyrads called The Elder among the life-elms. Taken in and raised until she was 5 by a an old she-wolf, who missed her pups. Early on, she learned the art of shapeshifting and to this day prefers that of a silver wolf.
At 5 she was found by a recluive mage, who continued her education in the arts of fine elven magic. At 18, she left home to wander the world, searching for knowledge and mastering archery, swordsmanship and knife throwing.
Falling in love with Magnus McKane led to her marriage. They currently reside at McKane Manor, her husband's ancestral manor. They have one son, born 2/4/00, named Micheal Magnus McKane.
Guilds
WCoR forum Vice President
TCoD - 4d80
WotBR - 4d70
DLotN - 4d62
CaoR - 4d40 (DC priestess)

Links
Email Me

This page created by Debi Mills